What's This About?
As a follow up to our article Are Qatar 2022 Lodging Options Really Sold Out? which also provides other options than the Qatar 2022 portal, this piece is written on Jun 3, 2022 as a way to potentially help those trying to navigate the booking.qatar2022.qa site. Let's be real, it is NOT the most user-friendly site around, am I right?
After plenty of combinations of searches, we noticed a few things that may help in your search…
1. Most Importantly – Availability Drops
The most important thing to keep in mind is that new options will drop/become available as time gets closer to Qatar 2022. That said, only the organizing committee knows the strategy so there's no guarantee on what and when will show up. We've sent inquiries to Qatar 2022 for further insight and will update posts if we learn more.
But again – check the site daily!
After the last sales phase allocation (May 31, 2022) – numerous apartments and holiday homes showed up as available AND cruise ship rooms! In fact, as of publication of this article, there are still rooms for cruise ships for the last week of November, which previously showed "sold out" months ago!
2. Best Search View
Ok, the site seems very fickle on showing all results and found that this specific search method is the best so skip everything and start here. This lets you filter by type of accommodation, shows all results for your dates, etc.
Starting Point: https://www.qatar2022.qa/book/en/search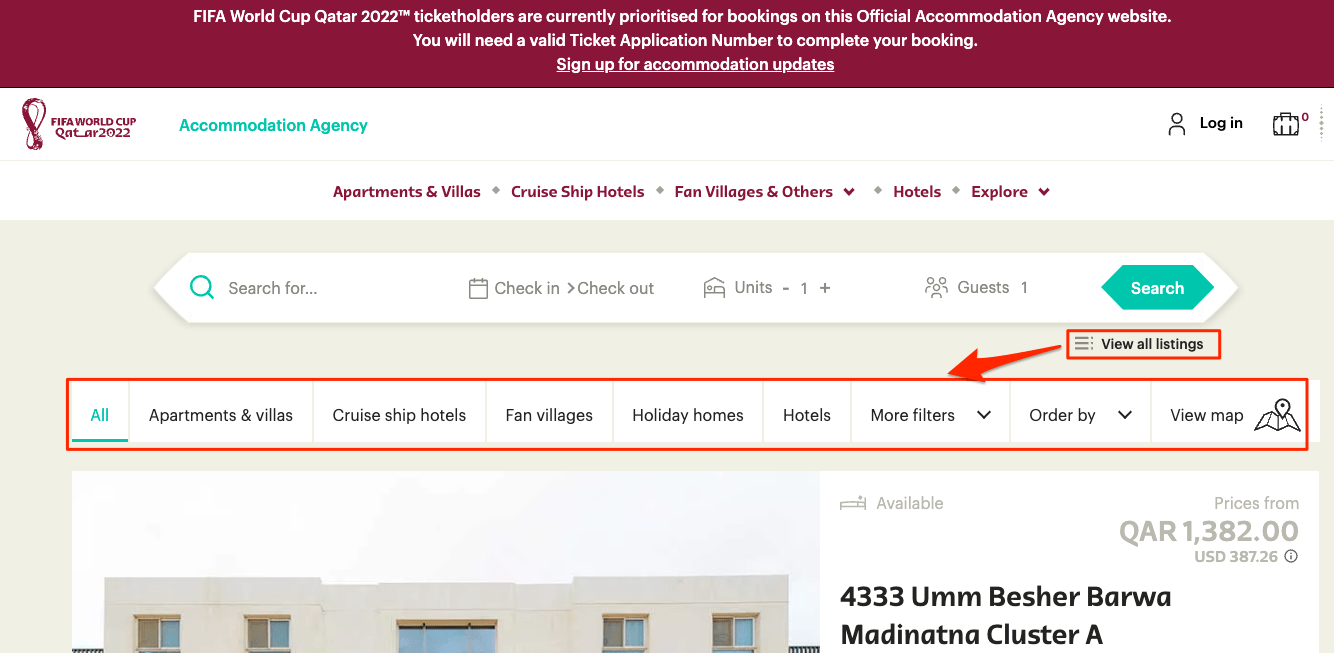 3. Adjust / Split Dates
Instead of adamantly searching for all X days of your journey for one lodging, try adjusting your dates to see if you can split time.
For example, you may not find a place for Nov 20 to Dec 1 BUT you may find a place for Nov 20 to Nov 25 and then another place Nov 26 to Dec 1.
Video on how to check availability:
4. Adjust Number of Guests
This is most important if you're searching for a group…make sure you enter the number of guests and not enter "1" as your quantity!
When searching for accommodation for a part of 1, limited results appeared. As soon as we adjusted the party to be 2 or more, a lot more holiday homes and apartments showed up as available for the exact same search!
Now, what we are unsure of and hope to get clarification from Qatar 2022, can one person pay for an entire party of 2 or more and stay solo? (We assume so but then again, nothing is normal for this tournament and we are not the official voice).
Side Comment: It also appears that the pricing for these accommodations are per unit/stay – so this becomes a lot more affordable when you have parties that can split the cost!

5. Use of the Map / Pagination
For us, the location of the lodging is key. We do not want to rent a car or depend on taxis/Uber so we carefully scrutinized locations against Metro stops.
What we noticed in this relation – the "View Map" only shows lodging options for that specific page number you are on. It is quite obvious once you realize it but the number of searches we made until we realized how to view lodging on the map is embarrassingly high. Perhaps someone reading this is making the same mistake and could learn something from the comment.


Summarizing Points
Check the site DAILY for updates!
Use the starting point of https://www.qatar2022.qa/book/en/search
Try splitting your dates to smaller chunks
Adjust your number of guests for the stay
When using the map, know the results are paginated
Don't Forget To Leave Your Thoughts
Use options below to rate the information as helpful or unhelpful
Drop a comment/question at the bottom of the page
Was this post helpful?
Let us know if you liked the post. Also, if you have a suggestion on new articles or pieces of information, let us know here or hit us up at hello@theworldcupguide.com!