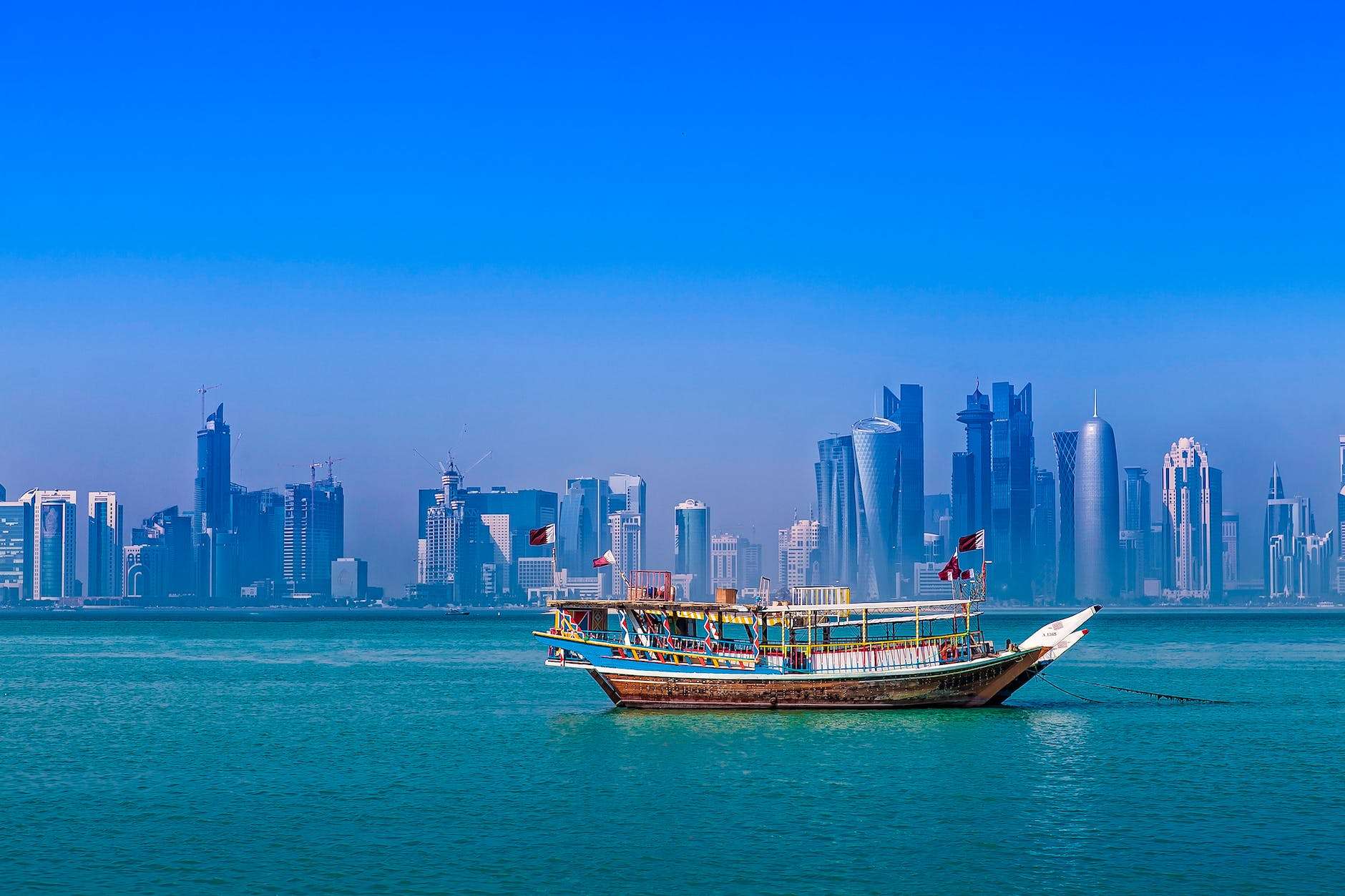 Finally, FIFA announced plans that allows fans to request a printed copy of match tickets!
UPDATED: January 17 2023
Souvenir tickets are NOW available until 7 Feb 2023 in the portal! Read below for details
What Is a Souvenir Ticket
Per FIFA, all (main applicant, mobile ticket owner) fans will have an opportunity to essentially receive a printed copy of their match tickets! Personally, we like to frame our tickets with a few images from each World Cup so this is great news. Assuming the souvenir ticket will be a real ticket with match number, seats, teams, date and your name.
Check FIFA's own article on Souvenir Tickets here and read our article below on how to actually apply & access your souvenir ticket(s).
Also, FIFA, if you're reading – if you made this available for previous tournaments, we'd happily pay a fee as some tickets are a little worn. 🤗
How To Apply
Note: some people are getting a technical error when trying to proceed on FIFA's site. It'd be helpful to receive a message on if you received the error or not. We've reached out to FIFA to inquire about it.
All you need to do is log into the Qatar 2022 Ticket Portal and submit your info before February 7th.
It is slightly annoying as you have to go through and purchase each application separately…whereas, having the ability to select all applications and make one payment would be nice.
If you want to see the screen-flow, you can also view our reel on instagram.
Pro Tip: My bank flagged the numerous, repetitive transactions for the same price as fraud, twice. You'll want to be in touch with your bank to ensure there's no delays – especially if you're trying this last minute.

What are the Stipulations?
There are a few ground rules here. Highlighting some insights:
Only the main applicant of mobile tickets can request and receive tickets.

The exact quote from FIFA is "Guests are not entitled to purchase souvenir tickets directly"
That means if you are a guest applicant, you'll have to work with the main applicant directly to receive your souvenir tickets.
The charge is 10 QAR per ticket – more details are listed below.

You cannot change the names/personal info of ticket applicants, main applicant or guests.
The main applicant can change their mailing address on the FIFA account.

You need to do so in the profile section of your FIFA Ticketing Account no later than mid February 2023.
If you moved to a different country, you will have to contact FIFA directly

FIFA's ticketing portal is the only place to request souvenir tickets,

i.e. you cannot go through 3rd party ticketing sites – and if you that's what you did, you likely purchased a guest ticket anyways and see above regarding guest tickets.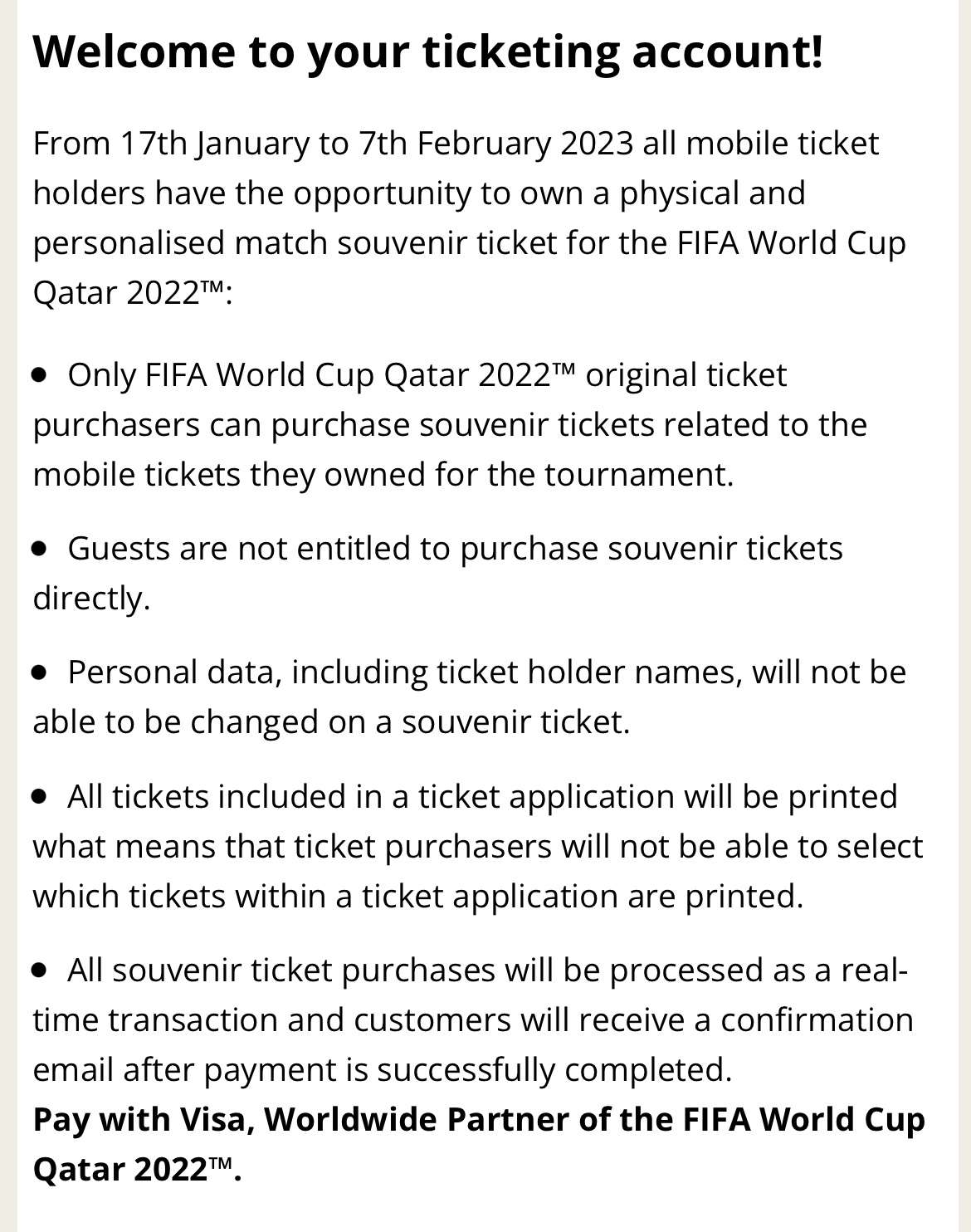 What's the Associated Cost?
Honestly, it isn't bad at 10 QAR per ticket – and it includes physical delivery!
There's a caveat here, if you ordered multiple tickets (e.g. main applicant + guests), you (as main applicant) must pay for ALL the tickets on your application.
The example given on FIFA site is if you applied for 6 tickets where 1 is you and then 5 for guests, you will have to pay 60 QAR to receive all 6 tickets. You cannot say "only send the main applicant ticket."
Random thought, it's slightly surprising that FIFA didn't include the 10 QAR option during purchasing but guessing that's because this offer for souvenir ticket is reactionary.
What is the Expected Delivery Time?
The estimated delivery, which is a generic statement considering fans are from all over the world, is 1 month. This means you can expect, per FIFA, tickets to be delivered no later than beginning of April.
Don't forget to update your address per above notes in your FIFA account by 7 February 2023.
Also, as stated above, shipping costs are included in the 10 QAR per ticket.
Still Have Questions?
If the details aren't listed above or you want to complain about FIFA's regulations, it is probably best to contact FIFA directly to inquire.
The FIFA FAQ on this topic is here.
Don't Forget To Leave Your Thoughts
Was this post helpful?
Let us know if you liked the post. Also, if you have a suggestion on new articles or pieces of information, let us know here or hit us up at hello@theworldcupguide.com!