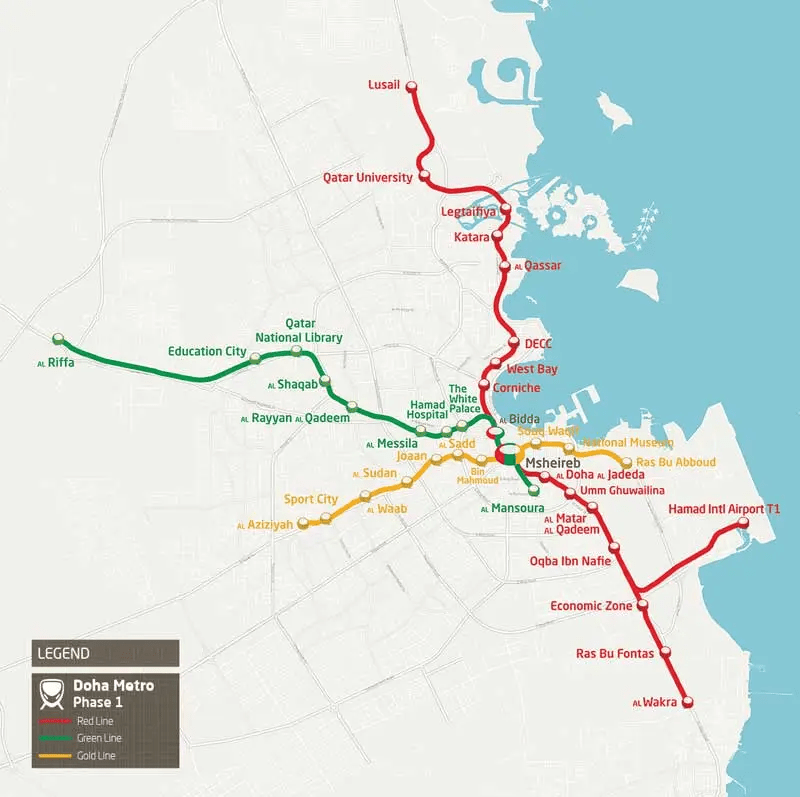 Source(s):
https://tunnelingonline.com/doha-residents-welcome-new-metro-connections/
https://www.theconstructionindex.co.uk/news/view/qatar-rail-tenders-long-distance-rail-project
https://en.wikipedia.org/wiki/Qatar_Rail
http://www.qr.com.qa/English/QatarRail/Pages/AboutUs.aspx
https://en.wikipedia.org/wiki/Lusail_LRT
Qatar Rail System
The overall system consists of Doha Metro, Lusail Tram & Qatar Rail Long Distance.

The Doha Metro will service all of Doha while connecting the city to Lusail (a waterfront city just north of Doha).
The Lusail Tram is for transporting passengers throughout Lusial.
The Qatar Rail Long Distance system is for better connecting Qatar to the other neighboring countries in the region:

Qatar
Saudia Arabia
United Arab Emirates
Kuwait
Bahrain
Oman
I cannot find definitive information about passenger rail systems between the two systems. At time of posting, the official website for Qatar Rail was down for maintenance.
Doha Metro
Doha's Metro System starting running in May 2019 and originally planned 4 lines with 3 of these completed by 2020.
How's the progress? Well, 2 of the 3 are completely done and the last remaining Phase 1 line is nearly complete.
The Doha Metro System is considered one of the most modern rail systems in the world and will be paramount to take visitors from stadium to stadium as well as throughout the area, airports, residential areas, etc.
The Doha Metro consists of 4 Proposed Lines:
Red Line (links to the official site)

1 Station incomplete (Legtalifiya Station) which is estimated to be done June 2020

Green Line (links to the official site)
Gold Line (links to the official site)
Blue Line – to be completed in 2026
Lusail Tram
The Lusail Tram is meant to transport people around this port city that lies just north of Doha.
It is expected to open later in 2020 and honestly, the best information that exists is on Wikipedia.
Don't Forget To Leave Your Thoughts
Use options below to rate the information as helpful or unhelpful
Drop a comment/question at the bottom of the page
Was this post helpful?
Let us know if you liked the post. Also, if you have a suggestion on new articles or pieces of information, let us know here or hit us up at hello@theworldcupguide.com!